Rustin's Popular Products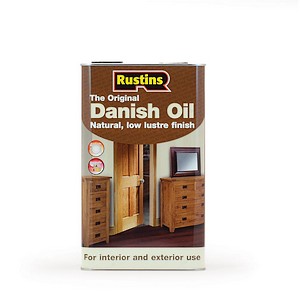 Rustin's Danish Oil
Unique and Original Suitable for all types of wood. Easy to use wipe on finish Gives a soft lustrous finish, brings out the beauty of wood.
A fantastic finish for wood turned items!
Rustin's Danish Oil can be applied to the wood & burnished on the lathe to an excellent natural look finish, which unlike other finishing oils, the sheen from Rustin's will last when handled regularly.
Ideal for knife handles, wooden pens, candlesticks, peppermills, fruit & nut bowls, burls.
Rustin's DANISH OIL is different to other oils.
Sizes Available:-
250ml – 500ml – 1 Litre – 5 Litre
Use For:-
Woodturnings & Carvings
Doors & window frames
Wooden worktops
Wood panelling
Wooden furniture
Wardrobes, dressers & side tables
Tables & chairs – Food Safe / Toy Safe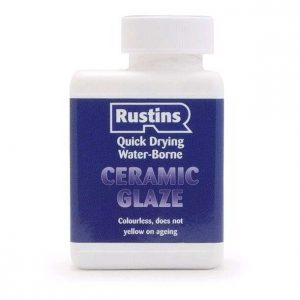 Rustin's Ceramic Glaze
Ceramic Care Acrylic Ceramic Glaze
Will not crack, craze or yellow in time, stays completely clear. A one-part quick drying water-borne Glaze, can be applied by brush or air-brush. Is usually touch dry within 30 minutes to 1 hour, depending on the ambient temperature.
Sizes Available:- 250ml, 1 Litre
Use for:- Ceramic Restoration
Water based, Quick Drying
Can be Stoved.
Artists dry powder pigments can be mixed with Rustin's Acrylic Ceramic Glaze.
Compatible for use over some cellulose, acrylic, epoxy and oil based paints.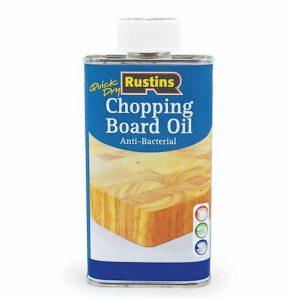 Rustin's Chopping Board Oil
A blend of natural plant oils. Deep penetrating. No surface film to scratch or chip. Low odour
Kills Ecoli and MRSA on contact.
Food safe*Eradibac anti-microbial additive contains silver ions which are highly effective against a wide range of bacteria, moulds and fungi.
Size Available:- 250ml

Use for:-
Chopping boards
Worktops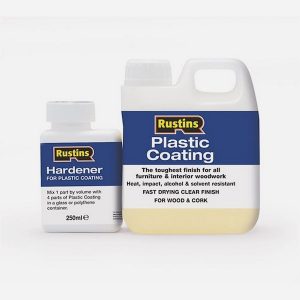 Rustin's Plastic Coating
Brush or Spray on, clear lacquer.
For use on wood, hardboard, cork & plastic laminates. Resistant to heat, solvents & abrasives.
"Excellent finish for wooden Goblets"
Does not yellow or craze with age.
The ultimate clear finish, easy to use & can be polished to a brilliant mirror high gloss, or rubbed down to a smooth, satin finish. Quick drying, Food Safe.
Sizes Available:-
Boxed Starter Kit, 250ml pack,
1 Litre pack, 4 Litre pack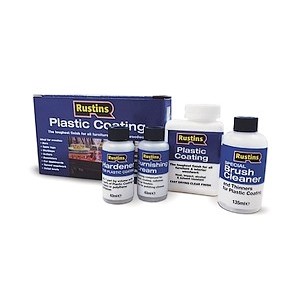 Rustin's Plastic Coating
Contents of this Starter Boxed Kit,,,
250ml of Clear Plastic Coating
63ml Hardener, 135ml Thinners
63ml Burnishing Cream
Covers approximately 4 Square metres with one coat.

Use for:- Woodturned projects,
Excellent for Goblets etc.
Veneered wood, Hardboard, MDF
Excellent for Marquetry
Unsealed cork
For interior use only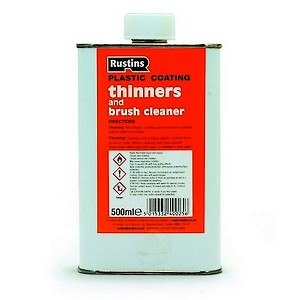 Plastic Coating Thinners
This special formulation & blend of solvents for use with Plastic Coating.
Size Available:- 500ml

Use for:-
Thinning Plastic Coating for spray application, cleaning brushes.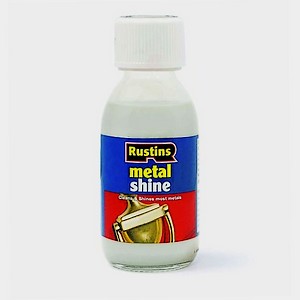 Metal Shine/Burnishing Cream
Rustins Metal Shine/Burnishing Cream.
Size Available:- 125ml

Use:- Metal Shine to burnish Plastic Coating to a mirror like shine & for polishing metals. Cleans & shines most metals.
Ideal for brass and chrome.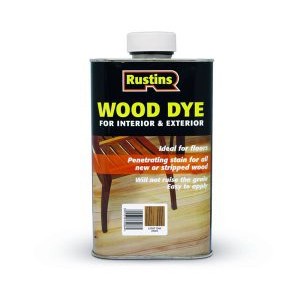 Rustin's Wood Dyes
For use on bare wood prior to finishing with any of Rustins wood finishes. Fast drying penetrating stain does not raise the grain. Supplied in 10 shades, which may be intermixed to make an infinite variety of natural wood shades.
Size Available:- 250ml
Use for:- Floors
Doors, skirting boards & architraves
Staircase & Bannisters
Cupboards, wardrobes, dressers & side boards, Tables & chairs
Interior and Exterior use.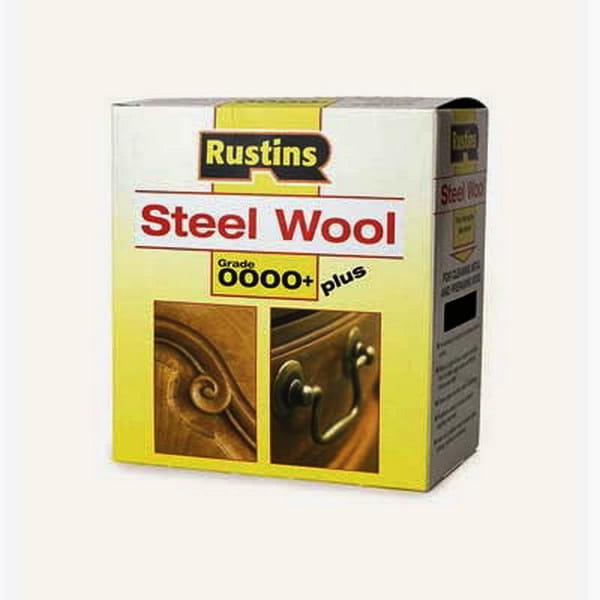 Rustin's Steel Wool
Moulds to any shape. Comes in handy DIY packs. Ideal for removing wax polish, obtaining matt and satin finishes, plus removing rust and polishing metal.

Grade 0000+ Plus Supreme
Size 150 gram Boxed

Use for:-
cutting back gloss finishes.
removing wax polish,
removing rust,
polishing metal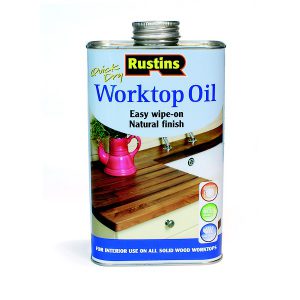 Rustin's Worktop Oil
Worktop Oil is a unique water-borne blend of natural plant oils and other special ingredients which nourishes and protects all types of wooden work surfaces, leaving a durable and water-resistant seal & not vulnerable to scratching or chipping. Oils used are from sustainable sources.
Sizes Available:- 500ml, 1 Litre

Use for:- Any solid wood worktop
Kitchen worktop, bedroom dresser, dining room table , Quick Dry
Water based & quick drying
For all solid wood worktops
Low odour, Food safe, Natural finish
One litre will cover around
13 square metres per coat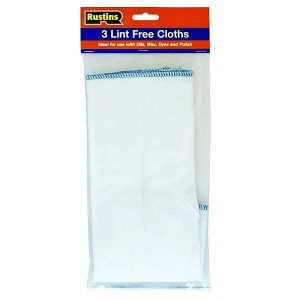 Rustin's Lint Free Cloths
Rustins Lint Free Cloths are ideal for use applying products such as Danish Oil, Teak & Furniture Oil,
Wax, Wood Dye & French Polish.

3 Cloths in a pack – 300mm x 300mm

Use for:-
An all round cloth that can be used for all types of DIY and industrial applications such as
applying Rustin's range of Oils, Wood Dyes, Waxes, French Polishes
Machine washable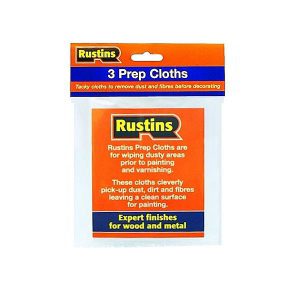 Rustin's Prep Cloths
Rustins Prep Cloths are cleverly designed to easily pick up and hold dust, dirt and fibres leaving a clean surface prior to painting and varnishing, making decorating preparation easier. Ideal for use prior to final coating as one light wipe will remove all particles that are left on the surface leaving it smooth for a first class finish.
Supplied 3 in a Pack

Use for:-
Surface preparation
Individually packed in a bag of three
Leaves no sticky residue.
Leaves the surface dust free prior to decorating. They can be used time and time again; just fold the Prep Cloth and pop it into the bag, to use next time you want a professional finish.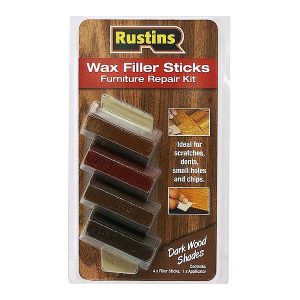 Rustin's Wax Filler Sticks
Wax Filler Sticks are for the repair of scratches, cracks and small holes on wooden and plastic surfaces. They are available in dark, medium and light. Ideal for repairing small damaged areas of furniture. When unsure of the exact colour match, choose a slightly darker shade.
Supplied in a pack of 4 with applicator.

Use for:-
For furniture repair
For scratches, holes, dents and chips.
Handy for woodturners
to fill small knot holes etc..
Colours can be mixed
Available in packs of
Light, Medium or Dark
Apply using light pressure with the tip of the spatula.



Rustin's Australia – Official website
Sole Australian Importer & Distributor since 1980.
The Woodsmith Pty Ltd